Oneida Bows will be offering the JMB 6061 draw stops pictured here shortly. Here are some pictures of the stops we will be offering for sale. These draw stops were used on the Original Oneida Discovery and have been impoved by another manufacturer who is making these stops for resale exclusivley for Oneida Bows. We have an order in with this manufacturer to produce these stops for us and expect them available for shipping in about two weeks. Istallation instructions included with every set of stops. JMB 6061 upgraded draw stops cost will be 29.95 TYD.
Pictured below is the original design of this draw stop as used on the Oneida Discovery.
This picture below is a back profile of the JMB 6061 Draw Stop mounted on a power limb. This stop uses an improved finer thread adjustment making finer adjustments possible.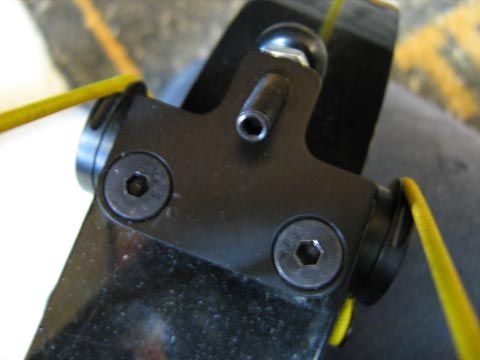 Pictured below is the JMB 6061 side profile showing the improved nylon stop. The nylon cushion helps eliminate indentation of the limbs.